News
UNESCO Marks the Ninth Global Media and Information Literacy Week and Features Conference in Sweden
Last update:
21 April 2022
UNESCO in collaboration with University of Gothenburg, the Swedish National Commission for UNESCO, and the Region Västra Götaland marked the Ninth Global Media and Information Literacy (MIL) Week and Features Conference, Youth Agenda Forum from 24 to 26 September 2019 in Gothenburg, Sweden.
Under the theme, MIL Citizens: Informed, Engaged, Empowered, this year's celebration give stakeholders a platform to review and celebrate progress achieved towards "Media and Information Literacy for All" in the digital age.
The conference as officially opened by Ms Anna Ekstrom, Minister of Education, Sweden who noted that MIL is necessary ingredient for civic engagement, freedom of Information, and pluralistic media. MIL is vital for creating a trusting society and necessary element that would help in attainment of the sustainable development goals.
Furthermore, Ms Anna Ekstrom stated that Sweden is a proud partner and donor to UNESCO highlighting that her Government gave a substantial donation of USD 135 Million funding (2018 to 2022) dedicated to UNESCOs initiatives on freedom of expression, education for all, democracy and MIL.  
"What would be better subject than MIL to be discussed, to take better in building a better world, where MIL has never been more important" "We can only do this through UNESCOs continued and tireless struggle to promote freedom of expression, freedom of information, and MIL for all in the world," she said
Mr Moez Chakchouk, Assistant Director-General, Communication and Information Sector at UNESCO gave his opening remarks by stating that the demand for MIL has grown considerably, especially with the rise of disinformation and hate speech in recent years. He indicated that the power of MIL for promoting intercultural and interreligious dialogue is self-evident. It enables people to be aware of the diversities around them, to express freely without infringing the rights of others, to know how to recognize and respond to hate speech, and to create positive counter-narratives.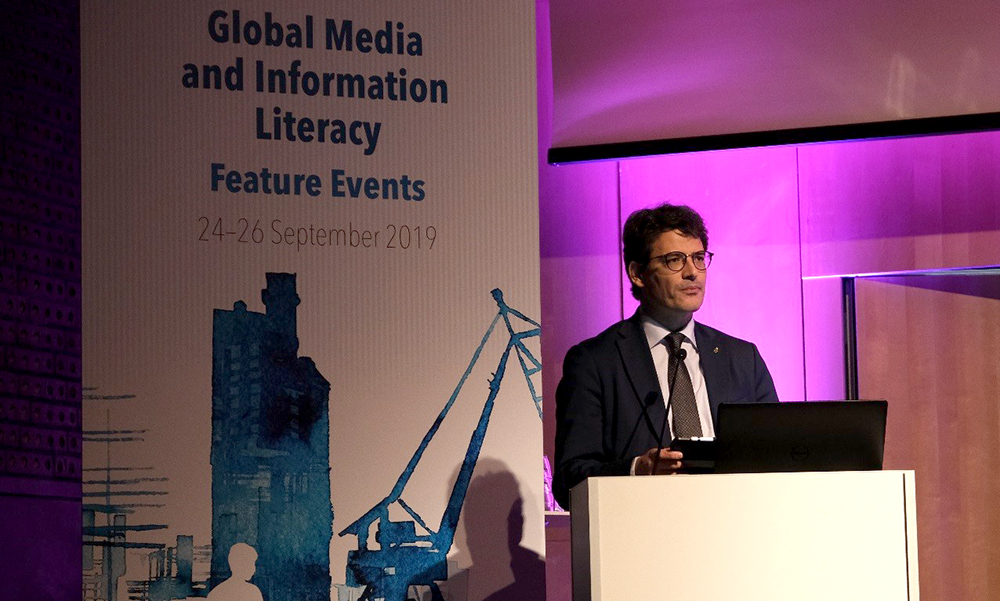 The ADG, reaffirmed UNESCO's commitment to continuing its leadership to promote MIL globally stating that through our collective efforts, we will soon see MIL prominently and permanently on the global development agenda.
"Freedom of speech and dialogue go hand in hand. As development actors, we could explore more purposefully the bringing together of these two fundamental social principles," he said.
Ms Annika Tännström, President of the Regional Council of Region Västra Götaland welcomed the participants and stated that as young people and adults are continuously exposed to hate speech and threats, MIL will help to strengthen action for democratic right all over the world. She further stated that it is important to be critical about the world we live in and this is necessary if we get equipped with the right MIL competencies.
Lastly, Ms Eva Wiberg, the Vice-Chancellor, University of Gothenburg indicated that in Sweden, a lot of people uncritically share dis-information online which can pose a greater risk. She further stated that as we continue to promote freedom of expression, freedom of information, we need to acknowledge that MIL is not exempt from fake news, fact resistance, disinformation, and hate speech.
As we educate teachers and journalists, we are contributing to MIL for all; it is also important to educate our children on MIL in our schools.
The opening session was followed by GAPMIL Media Information Literacy Awards in which the following organisations and persons were feted for their exemplary work within the MIL field; UNICEF Montenegro, Palestinian Youth Association for Leadership and Rights organization (PYALARA), News Wise, Frank Baker, President of Media Literacy Clearing House (USA), Alexander Fedorov - Editor of Media Education Journal (Russian Federation), and Revista Comunicar - Media Education Research Journal (Spain). Please see UNESCO website for more detail about the award ceremony and the awardees.
Every year, UNESCO and partners celebrate the Global MIL Week. The Feature Conference provides stakeholders globally with an opportunity to connect and share creative projects, the latest research, new ideas, and information.
Follow UNESCO's website for more on the Global MIL Week Youth Forum, which will take place on 26 September, here in Gothenburg. For more information, please contact Alton Grizzle, a.grizzle@unesco.org or John Okande, j.okande@unesco.org.